Now that the eldest is at school birthday parties seem to be almost weekly. What is more she (and her younger brother) have already been pleading for a birthday party this year. Having not had a party for the last two years I have agreed that this will be their year. With that comes all the planning and organisation. They will be having a joint party as their birthday's are so close but that means planning a birthday party for what will exceed 40 kids. So I might as well start collating some kids birthday party food ideas, party bag ideas and cake ideas now.
Being me I have put together a Pinterest board of my ideas and will share the kids birthday party food ideas for you in this post, together with a Marks and Spenser's voucher code for money of their online food orders.
Kids birthday party food ideas list;
Lunch boxes. 
Kids birthday party lunch boxes are a great way to avoid overspending and wasting food. You can buy them online for as little as 29p a box. You fill them with a sandwich, a drink and a snack or two and everyone's a winner. Everyone gets the same and everyone is fed. I really like the party lunch box idea as it's no mess and no waste, not to mention cost-effective.
Some party lunch box snacks could include, a mini cheese (Babybell), crisps, chocolate bar, box of raisins, fruit cups, cupcakes, popcorn pot, the possibilities are endless.
One of the draw backs however is that you need to make sure you have enough – probably a few extra, just in case and you have to prepare them yourself. It's cheaper than buying them ready-made but if you have large guest list you will be making a lot of lunch boxes at home the night before. Pre bought is an option but of course this doesn't come cheap, friends of mine have spent in excess of £300.00 on these before.
Another difficulty is accommodating children with food allergies. If everyone has a standard lunch box it may not the suitable for those with a gluten or dairy intolerance, for example. In the past I have taken my son his own lunch box to parties due to his dairy intolerance. I have been to parties where sandwich filling options have been given in advance of the party but again that then requires a lot of prep and organisation on your part.
Party buffet. 
Everyone loves a buffet. All birthday parties of my childhood seemed to include a buffet. They are great because you can lay out a spread and people can choose what they want. You can even accommodate for the more fussy eaters or specialised diets. They can also work out a fair bit cheaper if you shop savvy.
With a buffet you can put as much or as little effort into it as you want. You can pre-order your buffet ready-made to include anything from sandwiches, prepared veg, mini burgers, pizzas and puddings.  Marks and Spenser's for example have a great range of food to order, including kids party food trays. You can receive £5.00 off any order over £35.00 using voucher code TRY5. This is a busy mums dream, it is my dream. No pressure, no prep, no fuss and just quick and easy kids party food.
Buffets also allow your creative culinary side to run wild. You can create mini pots of popcorn, mini pasta boxes, tortilla lollipops and fruit platters. Buffets can be as versatile and as wide-ranging as you want them to be. They've come along way from my day of a cold sausage roll and cheese and pineapple on a stick.
Check out these kids party food ideas and recipes for your buffet below.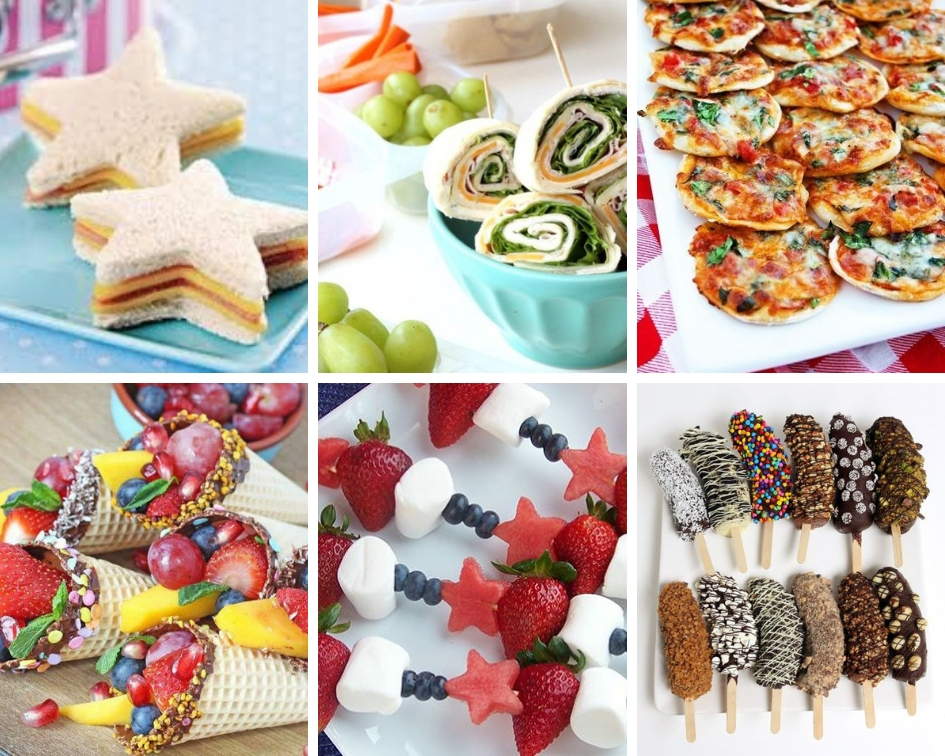 Shaped sandwiches – very simple, make you sandwich as you would normally and use any shape cutter (whether it's normally used for baking or play doh, it matters not) to cut the bread.
Tortilla lollipops – add your filling, roll it up, slice it, stick a cocktail stick in it and hey presto you have yourself bite sized wraps. Via Eazy peazy mealz
Mini Pizzas – perfect for mini hands and mini mouths.
Chocolate bananas – slice your banana, cover in melted chocolate, add a topping if you wish – sprinkles, drizzled chocolate etc and put in the fridge to set. via Food Network
Fruit skewers – Nice and simple but look great on a buffet table. You can use any fruit whether it is shaped plain or chocolate covered. Perhaps add a sweet or a marshmallow for that extra appeal.
Chocolate covered fruit cones – easier than it looks. Buy pre-made ice cream cone and fill with fruit. They look great and are a mixture of healthy and sweet.
P.S. Don't forget the cake
Oh the cake, there are some truly beautiful cakes out there for your perfect party. Or if you are more inclined you could bake yourself the perfect birthday cake, as I attempted to do last year. It wasn't too shabby actually (a natural baker I am not), if I do say so myself, what do you think?
Here is how I made it and the recipe. It was actually a super easy cake to make.
That said this year we'll need two particularly large cakes for the day. I don't feel too confident about baking something that is equally presentable and tasty for everyone to judge. So, a pre-order cake it is. For the moment a dinosaur and Princess Poppy cake are the birthday cakes of choice. They have to be a chocolate cake at that. We'll see whether it falls out of favour before the birthdays roll around.
I love all these kids birthday party food ideas and I would love to put on a spread of lovingly handmade fresh fruit and tortilla wraps but truth be told I am not a particularly good Pinterest mum. Time and patience is not something I have by the bucket load. For my money I imagine my kids will have a pre-made, pre bought buffet platter, at least that way the adults get to eat too. It's not just me who is always starving by time the food comes out, right?